Ok, this is going to be a hard post for me. I HATE my teeth. I'm currently going through Invisalign treatments, and I'm only on month 5 so I haven't seen any changes as of yet. So when you see my "before" pic, those little studs on my teeth? Yah those are my Invisalign brackets. Anyways, I can't wait to have perfectly straight teeth, but along with that, I want WHITE teeth. I drink a lot of soda, coffee, candy.. blah blah. All these things have been staining my teeth. I was excited to have the opportunity to review the new Crest 3D White Strips.
Here's the horrible before pic.. NOT very flattering! !!! You can see the yellow on the top of my teeth.. so gross.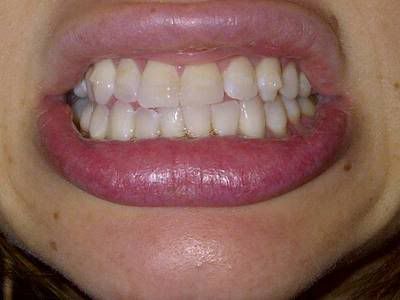 Stay tuned in the next coule days for my after results.. I can't wait to show you guys the AFTER pics once my Invisalign is complete as well.
I am participating in a Crest 3D White 2 Hour Express Whitestrips campaign hosted by One2One Network. This is a sponsored post. All opinions are completely my own